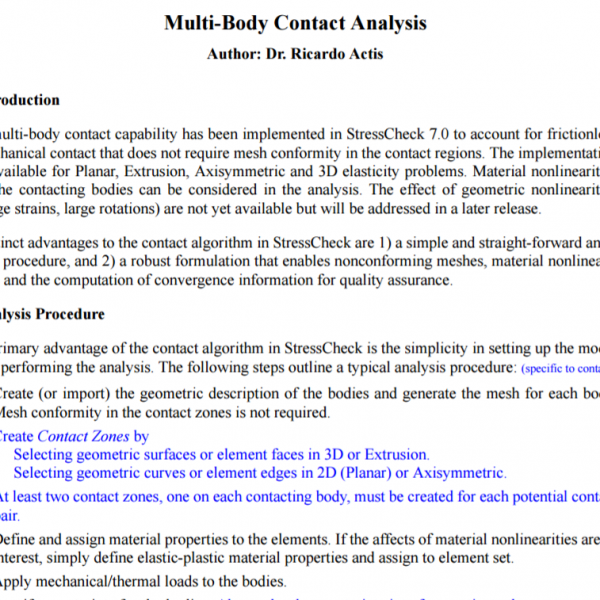 Multi-body Contact Analysis Technical Brief
Abstract: A multi-body contact capability has been implemented to account for frictionless mechanical contact that does not require mesh conformity in the contact regions. The implementation is available for Planar, Extrusion, Axisymmetric and 3D elasticity problems. Material nonlinearities of the contacting bodies can be considered in the analysis. The effect of geometric nonlinearities (large strains, large rotations) are not yet available but will be addressed in a later release.
Looking for Resources?
Recent News & Events
Quick Links
Testimonials
"As the United States Air Force continues to extend the service life of their aircraft the Aircraft Structural Integrity Program (ASIP) has had to refine the methods it uses to analyze and predict fatigue crack growth. Through the use StressCheck®, coupled with AFGROW, we in A-10 ASIP have been able to more accurately model, predict and analyze critical aircraft structure for the A-10 and other types of structure for non-A-10 system managers. This also allows us within the A-10 to more accurately assess risk for decision makers, streamline aircraft inductions into scheduled maintenance and reduce cost for total life cycle management."

A-10 ASIP Manager