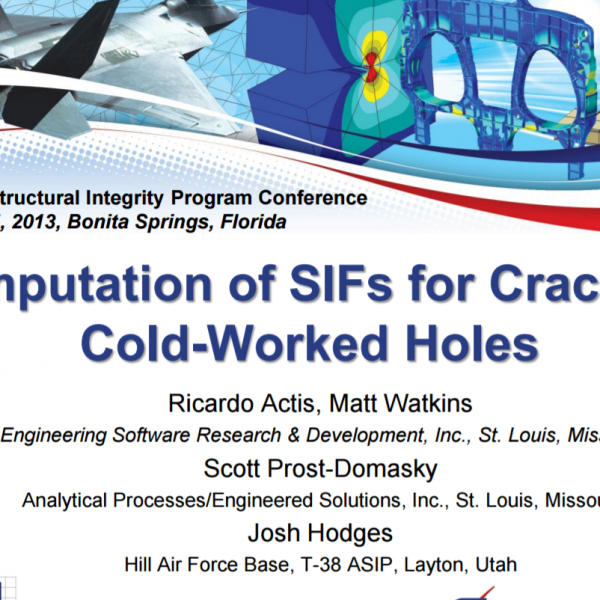 Computation of SIFs for Cracks in Cold-Worked Holes
Abstract: Reliable prediction of crack growth and residual strength in metallic structures require accurate computation of SIFs. Since analytical solutions for complex configurations are not available, estimates of SIFs have to be obtained by numerical methods such as the FEM. The particular case of cracks emanating from cold worked holes is of practical importance. To account for residual stresses in the computation of SIFs, two approaches were investigated:
modified J-integral with the J → K conversion
contour integral method for loaded cracks (CIM-LC)
Categories: Fracture Mechanics Module, Linear Elasticity Solver, MeshSim Advanced Module, Non-Linear Solver, Residual Stress Modules, Simulation Technology, StressCheck Core, StressCheck Professional.
Tags: Coldworking Stress, Damage Tolerance, Fracture Mechanics, Residual Stress, Theory.
Looking for Resources?
Recent News & Events
Quick Links
Testimonials
The capabilities available with BAMF, AFGROW and StressCheck® are highly advanced and offer significant potential to achieve the high-level goal of TITANS –to reduce the need to conduct expensive and time consuming physical tests and to rely more on simulation.