Second Edition of ESRD Co-Founders' Finite Element Analysis Book Published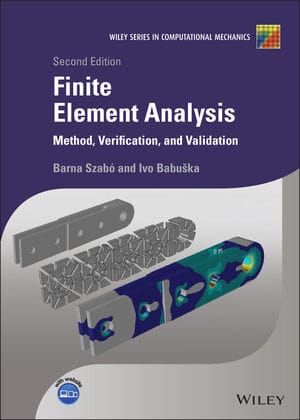 Recently, Wiley published the second edition of "Finite Element Analysis: Method, Verification and Validation" by ESRD Co-Founders Dr. Barna Szabo and Dr. Ivo Babuška as part of their "Wiley Series in Computational Mechanics". This edition provides an updated and comprehensive review of the theoretical foundation of the finite element method, and provides engineering students and professionals the tools, concepts, techniques, and procedures that help with an understanding of finite element analysis.
The following description from Wiley's website provides additional details on the goals of the new book:
The revised and updated second edition of Finite Element Analysis: Method, Verification, and Validation offers a comprehensive review of the theoretical foundations of the finite element method and highlights the fundamentals of solution verification, validation, and uncertainty quantification. Written by noted experts on the topic, the book covers the theoretical fundamentals as well as the algorithmic structure of the finite element method. The text contains numerous examples and helpful exercises that clearly illustrate the techniques and procedures needed for accurate estimation of the quantities of interest. In addition, the authors describe the technical requirements for the formulation and application of design rules.
To learn more about the new edition of the book (including access to multiple excerpts), to request a digital evaluation copy, and/or to purchase an e-book or hardcopy of the book, visit the book's official homepage on Wiley's site:
Visit Book Homepage
For a full list of publications regarding ESRD's simulation technology and theoretical background, as well as additional publications by ESRD staff, visit our Simulation Technology References page.