NAFEMS America 2017 Aerospace Simulation Engineering Presentations Available for Download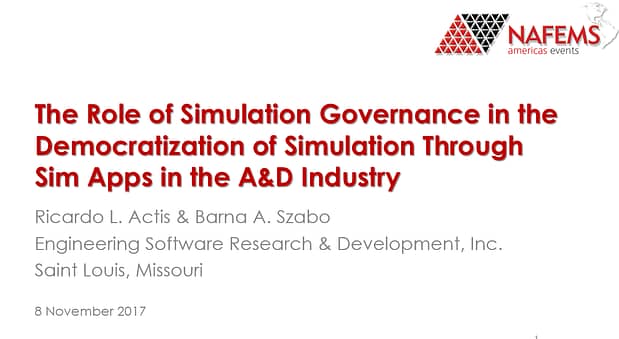 We would like to thank NAFEMS for allowing us to co-sponsor, exhibit and present at the NAFEMS 2017 Aerospace Simulation Engineering conference in Wichita, KS on November 8th.  It was a pleasure to meet the other vendors, co-sponsors, attendees and NAFEMS community.
ESRD's President and CEO Dr. Ricardo Actis presented on how Simulation Governance is a requirement for Democratization of Simulation, and ESRD Project Engineer Mr. Eric Buettmann presented on improving global-local simulation workflows for detailed Aerospace Simulation Engineering.  Both presentations spent time addressing several Big Issues in the Aerospace & Defense industry.
These presentations are now available to download from our ESRD Resource Library:
Reminder: ESRD will be attending and exhibiting at ASIP 2017 next week.  We hope to see you there!