ASIP 2017 Coming Up Soon…

ASIP 2017 is now less than two weeks away, and ESRD is making final preparations to exhibit, provide training and present on DaDT crack propagation analysis tools.  The following timeline should help you find us at ASIP:
We will be exhibiting at Booth 9 (at the entrance to the Exhibit Hall) from Monday, November 27 to Thursday, November 30.
Mr. Matt Watkins will be providing an FEA-based crack propagation analysis training course Monday, November 27 from 6:30 PM – 8:30 PM titled "How to use the Crack Propagation Analysis Tool for 3D Crack Simulation":

This 2 hour course will provide instructions for using the Crack Propagation Analysis Tool (CPAT) to simulate 3D crack growth at a fastener hole in a fatigue test specimen. Residual stresses due to cold-working of the hole are taken into account. CPAT provides an easy-to-use interface which significantly reduces the manual effort involved in complex crack growth simulations using the finite element method. Finite element solutions are computed using the StressCheck solver, renowned in the aerospace finite element analysis community for extracting high quality stress intensity factors (SIFs) for complex parts and assemblies.
Demonstrations of the software will focus on features and capabilities that are particularly suited to the ASIP community, including error and uncertainty propagation throughout the crack growth simulations.

Mr. Watkins will also be presenting a technical presentation Wednesday, November 29 from 1:45 PM – 2:15 PM titled "Pros and Cons of 3D Crack Growth Simulation using Finite Elements":

Excerpt: Recent advances in fatigue crack growth simulation technology make it possible to predict crack size and shape as a function of load cycles for more complex structural configurations than previously possible.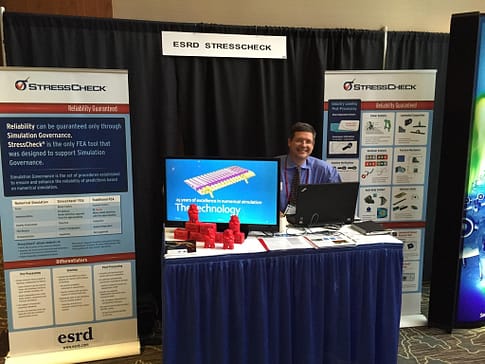 Typical ESRD Booth Setup
Contact us below if you would like to set up a meeting with us at our booth, or if you have any questions about the upcoming ASIP 2017 training/technical presentation.  We look forward to seeing you there!