Hill Engineering & ESRD Announce Joint Marketing Agreement
Announcing Hill Engineering and ESRD Agreement to Jointly Market BAMpF & StressCheck Professional
March 12, 2020
Hill Engineering and Engineering Software Research and Development, Inc. (ESRD) have executed a joint marketing agreement to collaboratively promote the combined use of our software tools Broad Application for Multi-Point Fatigue (BAMpF) and StressCheck Professional, respectively, for the engineering applications of fatigue and damage tolerance analysis.
ESRD is pleased to join forces with Hill Engineering and LexTech, Inc. (an ESRD technology partner and developers of AFGROW) to enable state-of-the-art fatigue crack growth capabilities for DaDT engineers.

BAMpF is a software tool developed by Hill Engineering for predicting the growth of fatigue cracks in 3D parts. Starting from an assumed initial flaw, BAMpF automatically combines fracture mechanics solutions from StressCheck with fatigue life calculations from AFGROW to assess fatigue crack growth performance.
Read Hill Engineering's announcement.
BAMpF Resources
The following are helpful resources for learning more about the BAMpF/StressCheck/AFGROW integration for fatigue crack growth:
BAMpF Case Study Example
The figure below shows a comparison between the fatigue crack growth predicted near a hole (using BAMpF and StressCheck Professional + AFGROW) and results from a fatigue crack growth test for similar conditions. In this case there is an initial flaw at the edge of the hole and the hole has been cold-expanded to introduce compressive residual stress.
Predicted crack front evolution (blue) compares favorably with the observed experimental result (red):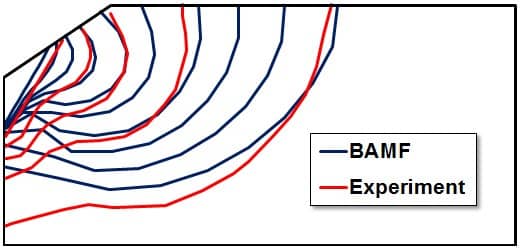 Want to Learn More? Contact Us: